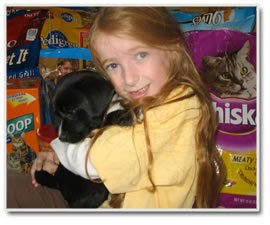 Looking for a Pet?
We are hopeful that you will find your next pet through EMAR. All of our animals have been given necessary care, including vaccinations, shots, heartworm tests and medication, and the spaying or neutering of the animal. Age permitting, ALL cats and dogs are neutered or spayed prior to adoption. However, if your pet is too young, it is your responsibility to bring your pet back in for the procedure.
Please carefully read the East Mississippi Animal Rescue Adoption Contract. If you agree to the terms of the contract, complete the Adoption Pre-Interview
(Click here to download the East Mississippi Animal Rescue Adoption Contract as a PDF document.)
---
Bringing a Pet In?
The animals we receive are taken in because of a special situation (owner going to nursing home, small dog would be traumatized by a shelter environment, animal needs medical assistance, etc.).
We all work full time and volunteer many hours to help. You must also be ready to help and not just dump the pet off on us.
We don't have an actual shelter to house any pets; therefore, foster homes must be found. Most of the time, you have to foster your own pet. You have to commit to at least 60 days with our program. You must be willing to spend some money on the pet to be sure we know about any and all health and temperament problems.
If you have a cat that needs to go into the program, you must be willing to have it FeLV tested, vaccinated, and checked for general health status.
If you have a dog that needs to be re-homed, you must be willing to have it tested for heartworms, vaccinated, and checked for general health status. If the dog is heartworm positive, there are several options available from about $100 to $500. Heartworms are treatable.
We will post photos of your pet on our Web site and www.petfinder.com. We will send out applications, screen potential new families, verify veterinarian references, do the home visits, and, hopefully, place the pet. We require at least a 60-day commitment to the program.

On occasion, we are able to get a pet into a breed-specific rescue group in the surrounding area.
Keep in mind that we may not be able to place your pet within the original 60 days. You can elect to continue with the program or decide on other options at that time.